Introduction to Ammonia Refrigeration
Introduction to NH3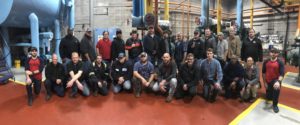 Refrigeration is a two day class specifically designed for employees whom need to know enough about ammonia refrigeration to understand the basis of industrial thermodynamics and the safety around it, but would never expect to ever operate or work on the systems. As a person supporting an ammonia refrigeration system, you don't have to be an expert in thermodynamics, but should know the basics and confidence in the language and general knowledge in refrigeration design, applications, and components. Key roles that that this class is designed for:
Plant Management
Safety
Emergency Response
Production
Human Resources
Industrial ammonia refrigeration can be very daunting to many, you may not need the advanced technical training such as the operator or technician courses. The class will give you the basis of:
PSM/RMP Introduction
Ammonia Safety
Basis of Heat Transfer
Basis of Compressors and compression techniques
Basis of Evaporators and various evaporator designs
Basis of metering/expansion valves and various valve groups
Basis of condensers and various condensing designs.
Foundation of Refrigeration
The class will be supported with GCAP's hands-on lab for demonstration and our 4th edition manual, "Understanding Industrial Refrigeration from the Inside Out".
Garden City Ammonia Program
2405 E. Fulton Plaza
Garden City , KS 67846
620-271-0037
620-271-0484 FAX
ammonia@pld.com
www.AmmoniaTraining.com
www.BoilerLicense.com