RAGAGEP Competencies
GCAP's RAGAGEP Competencies formally Operator III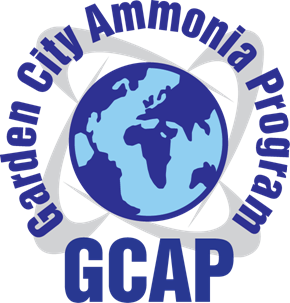 Prerequisite: Ammonia Refrigeration Experience
Bring your P&ID's
All of this material is covered or introduced to thestudent at our seminar. This selection of material will allow success in companies training structure and it follows the new IIAR Task Force Guideline using IIAR's Ammonia Refrigeration Library and GCAP's Supplemental Material.
Ammonia Operator III (RAGAGEP) will use the most current printed IIAR Ammonia Refrigeration Library as primary text
IIAR Ammonia Refrigeration Training Guideline (ARTG)
ANSI/IIAR 1-2017

Definitions and Terminology used in IIAR Standards
ANSI/IIAR 2-2014

"Equipment , Design, and Installation of Closed-Circuit Ammonia Mechanical Refrigerating Systems"

General
Definitions
Reference Standards
Location of Ammonia Refrigeration Machinery
Machinery Rooms
Refrigeration Equipment Located in Areas Other Than Machinery Rooms
Equipment
Compressors
Refrigerant Pumps
Condensers
Evaporators
Pressure Vessels
Piping
Packaged Systems and Equipment
Overpressure Protection Devices
Instrumentation and Controls
Ammonia Detection and Alarms
ANSI/IIAR 3-2017

"Ammonia Refrigeration Valves"

Purpose
Scope
Definitions
References
General Requirements
Materials of Construction
Pressure Envelope Requirements
Marking
Production Testing
Sources of Reference
ANSI/IIAR 4-2015

Installation of Closed-Circuit Ammonia Refrigeration Systems

Purpouse
Scope
Definitions
Normative References
General Requirements
Compressor Installation
Condenser Installation
Evaporator Installation
Pressure Vessel Installation
Pipe and Valve Installation
Components and Controls Installation
Insulation
Testing of Installation
ANSI/IIAR 5-2013

Start-up and Commissioning of Closed Circuit Ammonia Refrigeration Systems

Purpose
Scope
Definitions
References
General Ammonia Information
Records
Start-up of New Installations
Start-up of Additions and Modifications to Existing Installations
Sources of References
Pressures
Leak Test, Evacuation, Dehydration

ANSI/IIAR 7-2013

Developing Operating Procedures for Closed-Circuit Ammonia Mechanical Refrigeration Systems

Purpose
Scope
Definitions
References
Developing and Maintaining Operating Procedures

Content
Developing the Procedure
Non-Routine Tasks
Maintaining SOPs

Equipment

Customization
Compressors
Evaporators
Pressure Vessels
Refrigerant Pumps
Purger
Oil Removal

Systems
Tasks

ANSI/IIAR 8-2015

Decommissioning of Closed-Circuit Ammonia Refrigeration Systems

Purpouse
Scope
Definitions
References
Preparation
Equipment
Operations
Ammonia Disposal
Close-Out

Bulletin No. 108

Water Contamination in Ammonia Refrigeration Systems

Preface
Ammonia-Water Relationship
Effects on Water Dilution
Water Contamination Sources
Areas of Highest Water Content
Freezing Temperatures of Ammonia-Water Solutions
Detection of Water Contamination

Apparatus
Sampling Locations
Sampling Procedures
Test Procedure

Percent Water Determination
Removal of Water from System
Safety Precautions
Curves
Diagrams
Appendices
References
Bulletin No. 109

IIAR Minimum Safety Criteria for a Safe Ammonia Refrigeration System

Purpose
Scope
Definitions
Safety Criteria

Compressors
Evaporative Condensers
Shell and Tube Heat Exchangers and Pressure Vessels
Forced Air Evaporators
Refrigerant Pumps
Visual Liquid Level Indicators
Piping Systems
Ammonia Machinery Room Ventilation System
Pressure-Relief Devices
General Ammonia Refrigeration System Safety Requirements

Frequency of Safety Inspections
Titles and Sources of References
Inspection Checklist

Bulletin No. 110

Start-up, Inspection and Maintenance of Ammonia Mechanical Refrigerating Systems

General
Definitions
Ammonia Characteristics and Hazards

Ammonia
Physical Properties of Ammonia
Refrigerant Grade Ammonia Specifications
Characteristics and Hazards
General Precaution

Records
Start-up of New Installations

General
Pre-Startup Safety Review
Initial Status and Safety Provisions
Electrical Equipment
Evacuation, Dehydration and Leak Checking
Charging Procedure
Testing of Protective Devices

Inspection and Maintenance

General
System Log
Compressors
Pressure Vessels and Heat Exchangers
Ammonia Pumps
Valves and Sensing Devices
Piping
Oil Maintenance and Removal
Motors and Drives

Title and Sources of Reference
Name Plate Data
System Component Group List
Machinery Room and Auxiliary Rooms Safety Equipment
Stress Corrosion Cracking
Pressure Tests
Typical Schedule for Inspection and Maintenance
Sample Details for Register
Sample System Log
Bulletin No. 114

Identification of Ammonia Refrigeration Piping and System Components

Introduction
Scope
Definitions

Piping Systems
System Components

Identification System

Piping Markers
Marker Body
Physical State
Pressure Level
Ammonia Piping Abbreviations
Directional Arrows
Pictorial View of a Pipe Marker
Identifying Small or Hidden Pipe
Pipe Marker Dimensions and Letter Sizing
Component Markers
Pictorial View of a Component Marker
Marker Material Requirements

Marker Location
Visibility
Reference Chart
Expanding the Identification Guidelines
Bulletin No. 116

Avoiding Component Failure in Industrial Refrigeration Systems Caused by Abnormal Pressure or Shock

Introduction
Scope
Definitions
Trapped Liquid

Causes
Preventive Measures

Sudden Liquid Deceleration

Causes
Preventive Measures

Vapor Propelled Liquid

Causes
Preventive Measures
Liquid in Hot Gas Lines
Initiation of Hot Gas Defrost
Termination of Hot Gas Defrost
Light and No-Load Conditions

Normal or Not Normal ?
Brief review of PSM/RMP, Ammonia Characteristic, Safety, Basic Refrigeration Cycle
Consequences of Deviation
GCAP's Oil Draining Video Analysis
Adjusting and Balancing various ammonia systems and designs
Analyze your plants Specific P&ID's one on one
PSI Data Collection on most Ammonia Valves DVD
Garden City Ammonia Program
2405 E. Fulton Plaza
Garden City , KS 67846
620-271-0037
620-271-0484 FAX
ammonia@pld.com
www.AmmoniaTraining.com